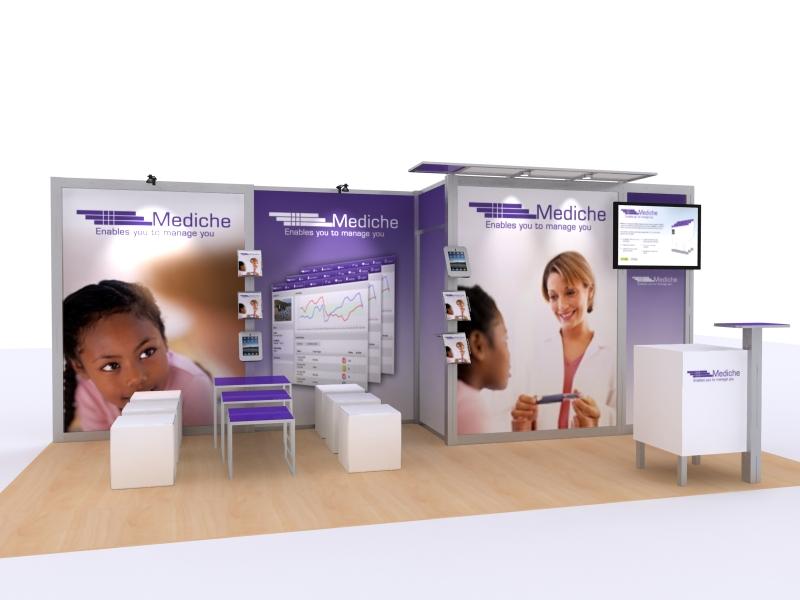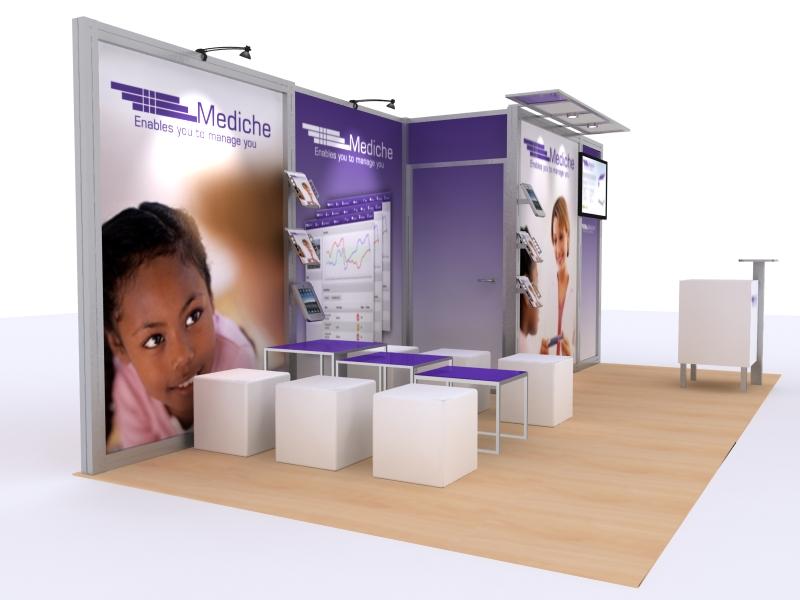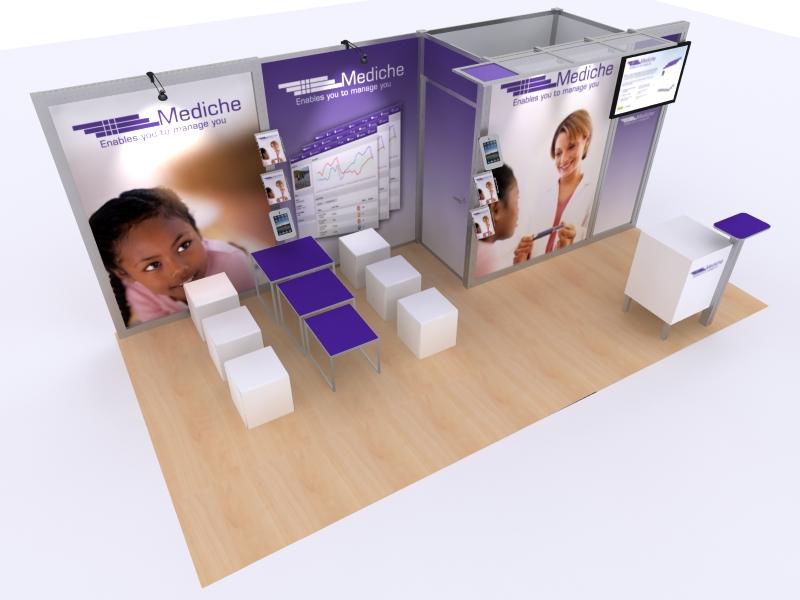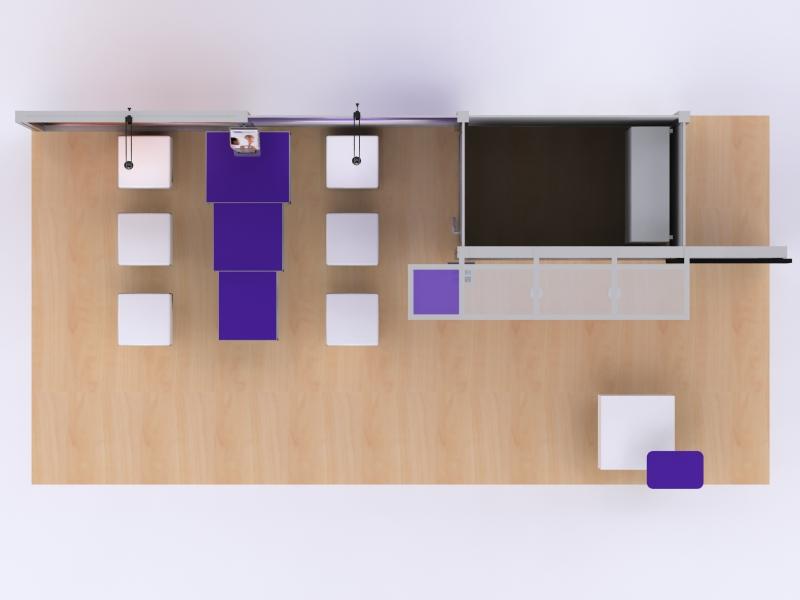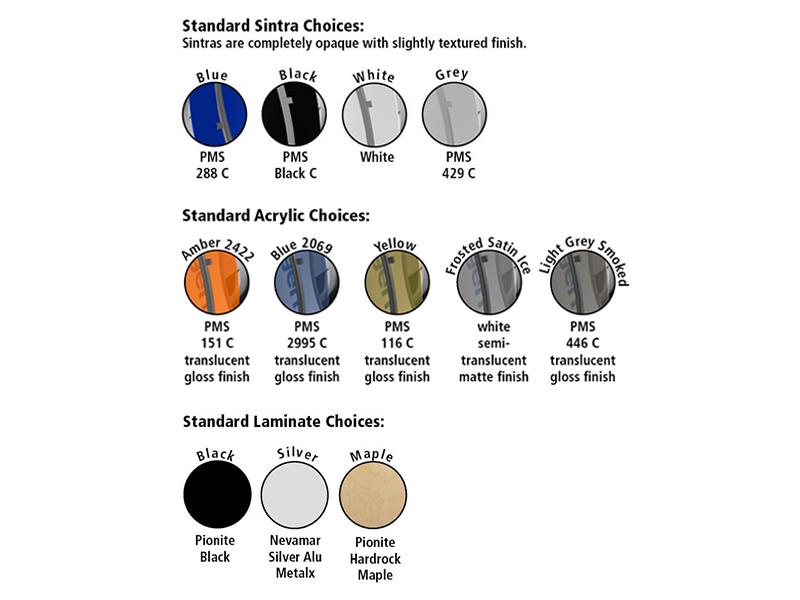 Visionary Hybrid 20' Inline Exhibit - KIT VK-2922
CE-VK-2922

---
,
Visionary 20' Hybrid - Kit VK-2922 offers vibrant dye-sublimated tension fabric graphics, elegant laminates, and lightweight yet durable aluminum extrusions. These modular display kits allow you to customize your exhibit with your distinctive graphic vision. Attractive accessories add interest and practicality to your hybrid system.
Visionary Modular Hybrid's allow you to size your display to fit most tradeshow standards, from 10x10, to 10x20, to 10x30 exhibits. The modern frame is made from engineered aluminum with channel bars to attach Silicone Edge Graphics (SEG) which allows fabric graphics to stay taut and edge-to-edge to the frame. The light and easily portable system packs into one or more hard-shipping cases for easily transporting your exhibit to your next tradeshow. A full range of accessories are available including LED lighting, monitor mounts, iPad stands, counters, pedestals, literature racks, seating, and more!
Setup Time:
Assembly Type: Aluminum SEG Chanel Bar Frame with Attached Knobs and Hex Key Connectors (tool included)
Graphic Type: Push-Fit Tension Fabric Graphic
Assembled Dimensions:
Shipping Dimensions:
Shipping Weight:
Product Warranty: Please refer to Limited Lifetime Warranty for details
Engineered Aluminum Structure
Large Format Tension Fabric Graphics
(1) 7' 3" x 1' 6" Plex Canopy with Colored Transparent Film (one section)
(2) Puck Lights
(1) 6' x 3' 3" Closet with Locking Door and Shelves
(3) Silicone Edge Fabric Graphics (5' 5" W x 8' H)
(1) MOD-1327 Reception Counter (32" W x 29" D x 45" H)
(2) MOD-1316 iPad Clamshell Frames (backwall)
(4) ZB-221 Metal Brochure Holders
(1) Large Monitor Mount (excludes monitors)
(2) 5 Watt LED Lights
Includes Fabric-Lined Crate(s) with Customized Jigging and Reusable Packaging
Includes All Tension Fabric and Direct Print Graphics Shown
Graphic Template Upload
Graphic Guidelines
Please visit our Artwork Guidelines page for important graphic requirements to aid in preparing files.
Graphic Proof Options
E-Proofs (emailed PDFs) are provided at no charge for reviewing layout and content.
Only Printed Graphic Proofs provide accurate color matching.
Printed Proofs are available for an additional cost.
Please refer to our Graphic Proof Approval page for details.
Lead Time
Items with custom printed graphics ship in 7-10 business days from Graphic Proof Approval.
Production lead times are based on business days (excluding weekends and holidays) and DO NOT include shipping transit time.
Please visit our Lead Time page for additional details.
Shipment Location
Ships from contiguous U.S.
Order Processing
Orders placed before 2:00 pm EST are processed same business day.
Orders placed after 2:00 pm EST are processed next business day.
We do not process orders on U.S. holidays or weekends.
Standard Shipping
In-stock items (items that do not require custom printed graphics) ship within 3-5 business days of order confirmation.
Items with custom printed graphics ship in 7-10 business days from Graphic Proof Approval.
Please visit our Shipping page for additional details.
Expedited Shipping
Rush shipping is available for most items.
Please call us to request a quote: +1 (843) 813-4742