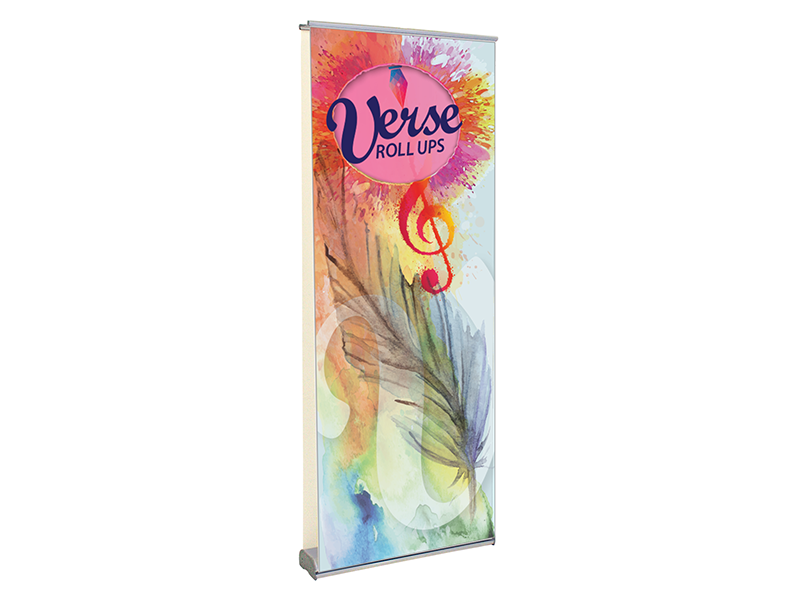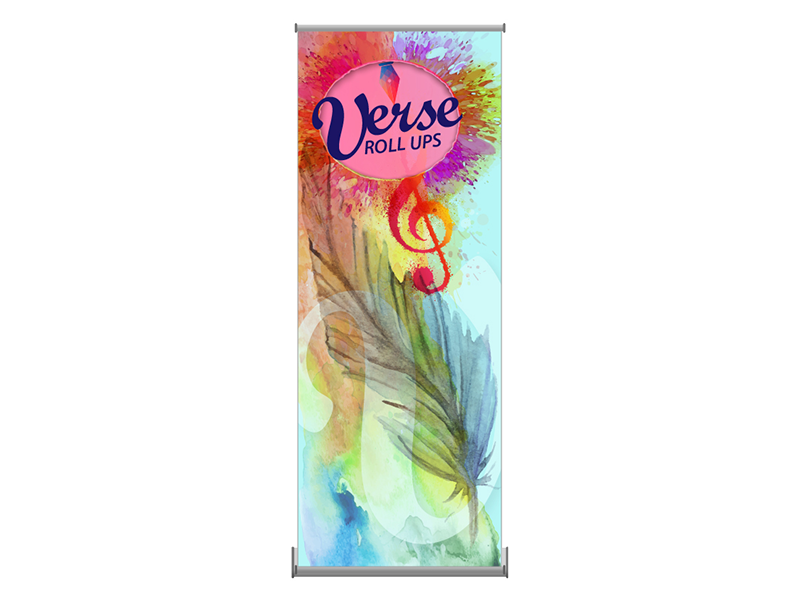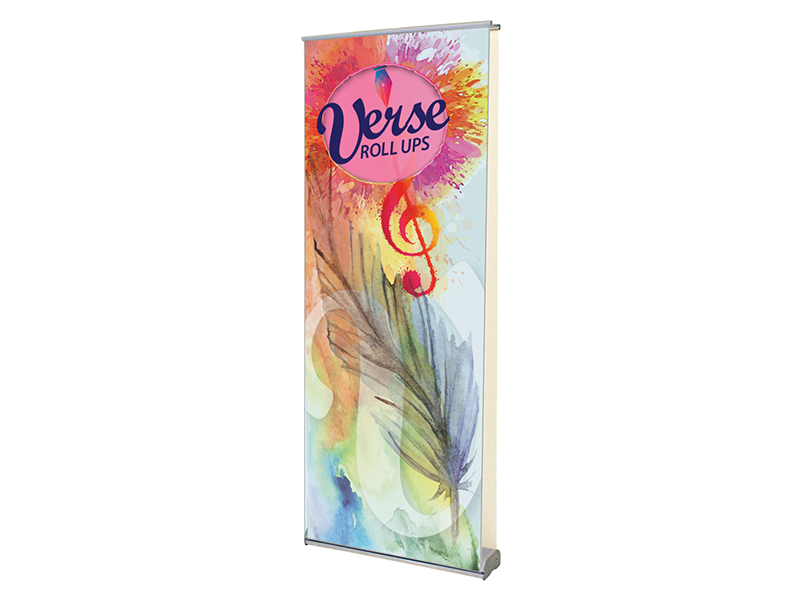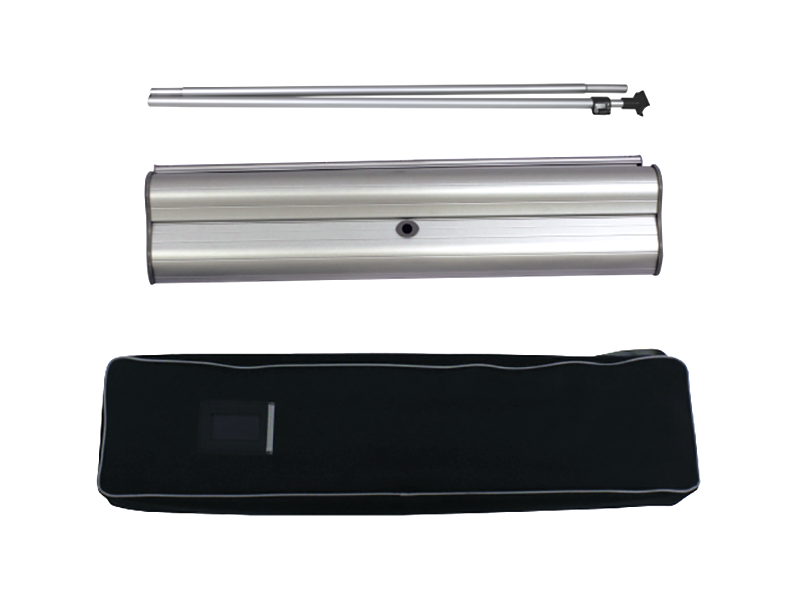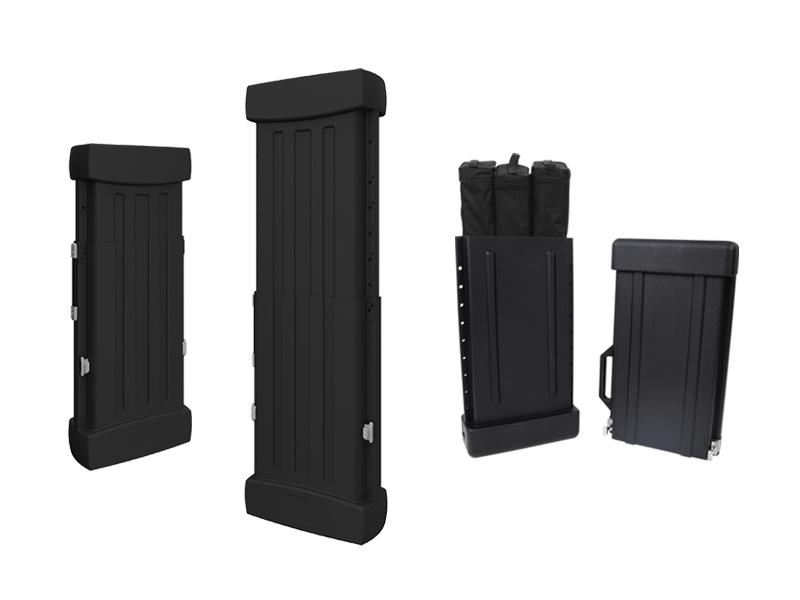 Verse-2 Banner Stand – Double Sided 31x83
OR-VB2-31X83-VG

Verse-2 Double-Sided Banner Stand is a 31" wide display with two full-color graphics back to back giving you 360 degrees of visibility. This banner stand with a dual retractor mechanism features curl-resistant vinyl graphics and is very easy to set up and use - simply pull one banner at a time out of the base and attach to the telescopic pole! Choose from direct print curl-resistant vinyl graphics, or premium dye-sublimated fabric graphics with blackout. Stylish and versatile, these displays are an economical choice and come with a lifetime warranty on the hardware.
Verse-2 Rollup Banners are available in two widths: 31" and 35". The banner graphic is height adjustable from 60" to 83" tall to give you numerous display options for your marketing message.
Verse-2 Rollup Banners include banner stand base, two printed banner graphics, one bungeed-telescopic pole, and a padded carry bag. Add a Hard Shipping Case to hold just one unit or multiple units.
Setup Time: Minutes, 1 Person
Assembly Type: Retractable Banner with Bungeed-Telescopic Pole (tool-free)
Graphic Type: Direct Print Anti-Curl Vinyl Graphic
» Premium Dye-Sublimated Fabric Graphic with Blackout
Assembled Dimensions: Open Dimension - 32.68" W x 84.75" H x 7.28" D
Shipping Dimensions: Shipping Box - 38" L x 10" H x 5" D
Shipping Weight: 15 LBS (estimated)
Product Warranty: Please refer to Limited Lifetime Warranty for details
(1) Verse-2 31x83 Retractable Banner Stand (Silver base only)
(2) Single-Sided Anti-Curl Vinyl Banner Graphics
(1) Bungeed-Telescopic Pole
(1) Padded Carry Bag
Graphic Template Download
Setup Instruction Download
Graphic Template Upload
Graphic Guidelines
Please visit our Artwork Guidelines page for important graphic requirements to aid in preparing files.
Graphic Proof Options
E-Proofs (emailed PDFs) are provided at no charge for reviewing layout and content.
Only Printed Graphic Proofs provide accurate color matching.
Printed Proofs are available for an additional cost.
Please refer to our Graphic Proof Approval page for details.
Lead Time
Items with custom printed graphics ship in 7-10 business days from Graphic Proof Approval.
Production lead times are based on business days (excluding weekends and holidays) and DO NOT include shipping transit time.
Please visit our Lead Time page for additional details.
Shipment Location
Ships from contiguous U.S.
Order Processing
Orders placed before 2:00 pm EST are processed same business day.
Orders placed after 2:00 pm EST are processed next business day.
We do not process orders on U.S. holidays or weekends.
Standard Shipping
In-stock items (items that do not require custom printed graphics) ship within 3-5 business days of order confirmation.
Items with custom printed graphics ship in 7-10 business days from Graphic Proof Approval.
Please visit our Shipping page for additional details.
Expedited Shipping
Rush shipping is available for most items.
Please call us to request a quote: +1 (843) 813-4742