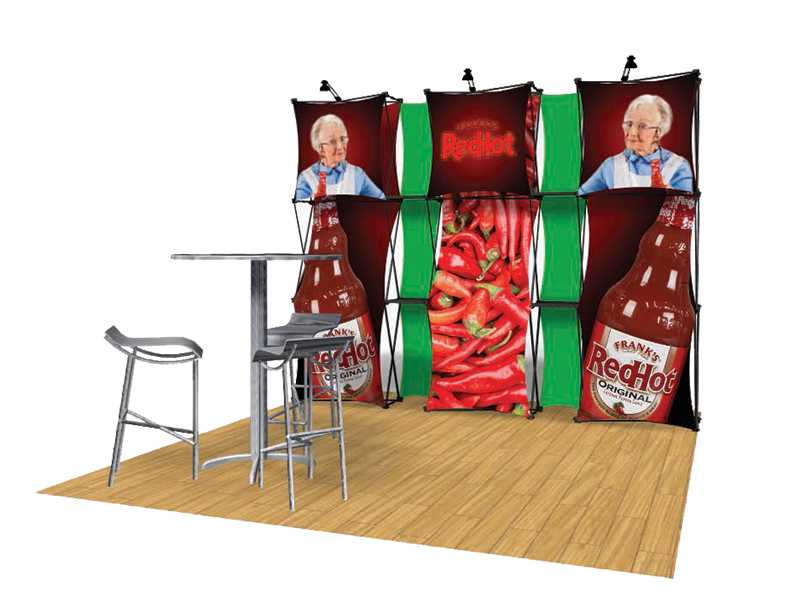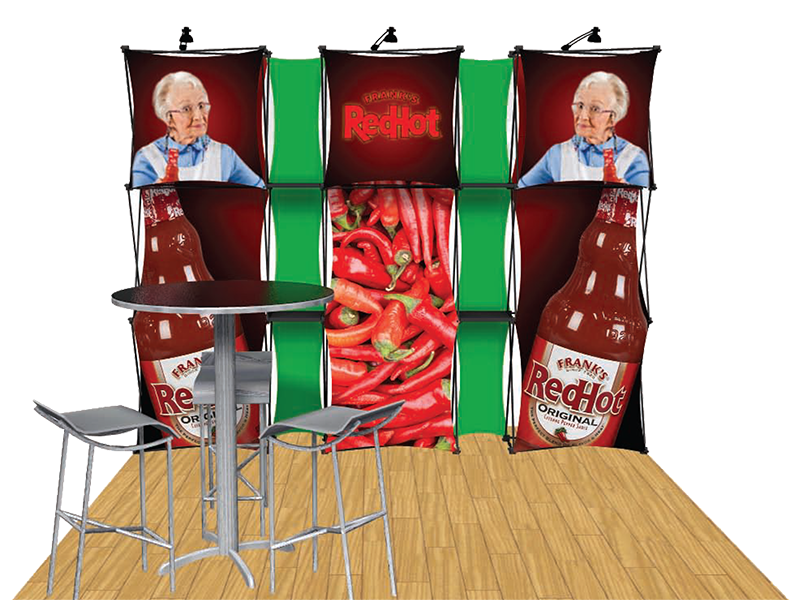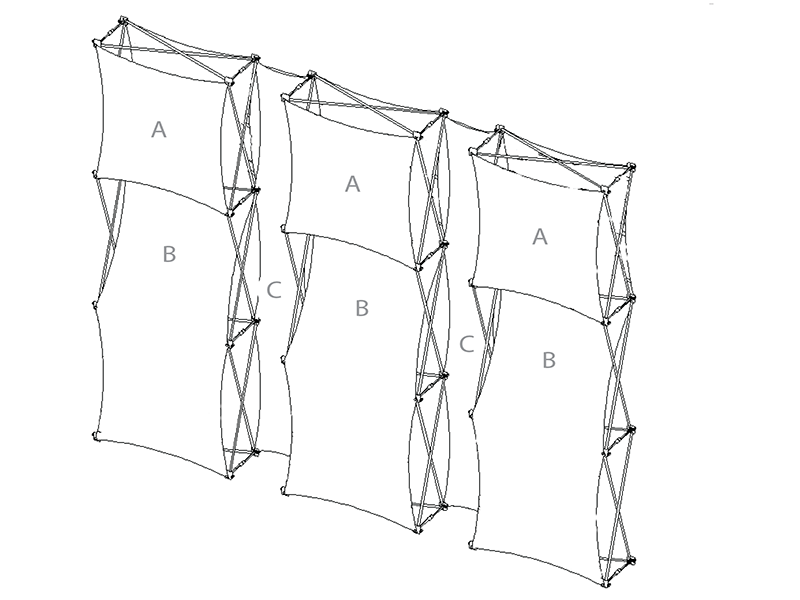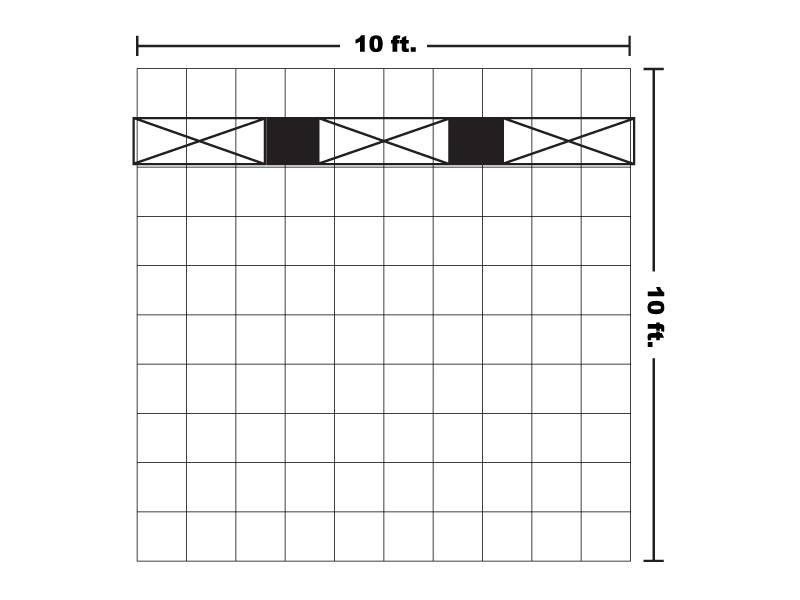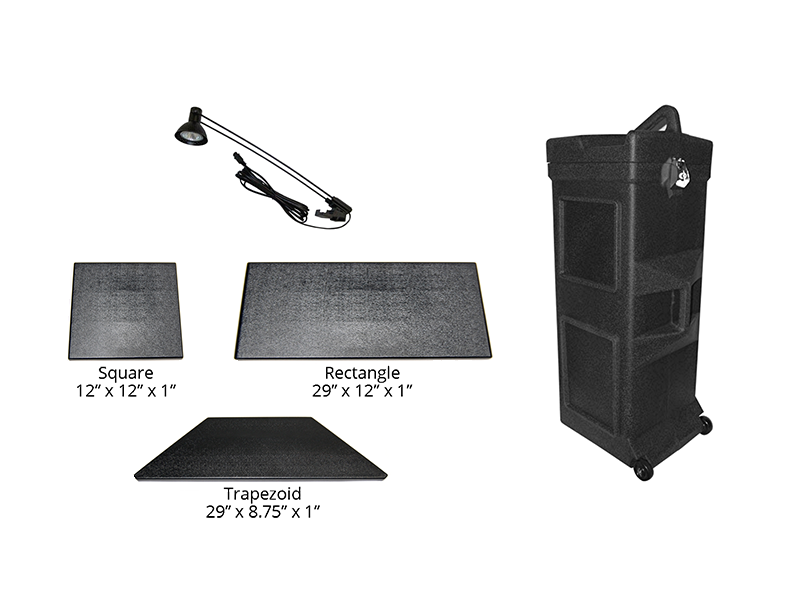 ConneX 10' Tension Fabric Pop Up Display - KIT A
OG-XPR-CX-10KA

ConneX 10' Tension Fabric Pop Up KIT A features dynamic stretch fabric graphic panels that can easily be rearranged or replaced to change the look of your trade show and event marketing display.
ConneX 10' Modular Systems are composed of three SNAP 1x3 Pop Up Frames linked by support shelving, and connecting tension fabric "skins" to create the illusion of a 3x3 inline display. SNAP Pop Up Frames, available in your choice of black or silver, easily snap together without the use of tools. These lightweight, portable frames ship with the dye-sublimated fabric skins fully attached. Just grasp both sides of the frame center "quad" (square section) and lift gently upward. The strong magnetic connectors "snap-lock" the frame into place, setting up your display in seconds! Finish your ConneX Backwall Kit setup by attaching the connector graphic skins, linking support shelves and lights.
ConneX 10 Foot Pop Up KIT A connects with square shelves to form a straight backwall trade show display. ConneX Kits are available with rectangle, square, and trapezoid connecting shelves to create numerous 3-dimensional configurations including: concave, convex, and serpentine.
ConneX Pop-Up Kits Include:
SNAP 1x3 Pop Up Frames
Shelves
Fabric Graphic Panel Skins
Halogen Lights
Hard Shipping Case(s)
Setup Time: 30 Minutes, 1 Person
Assembly Type: Aluminum Expandable Scissor Truss Frame (tool-free)
Graphic Type: Tension Fabric Graphic "Skins"
Assembled Dimensions: Pop Up Frame Open - 122" W x 94" H x 13" D» Pop Up Frame Closed - 33.75" L x 7" W x 3.5" H» XPR Hard Shipping Case Exterior - 41" H x 14" W x 14" D» XPR Hard Shipping Case Interior - 35" H x 23" W x 13" D
Shipping Dimensions: Shipping Box - 42" L x 15" W x 15" H (estimated)
Shipping Weight: 31 LBS (estimated)
Product Warranty: Please refer to Limited Lifetime Warranty for details
(3) SNAP 1x3 Pop Up Frames
(3) 1x1 Flat Graphic Skins
(3) 1x3 Single Thread Graphic Skins
(2) 1x3 Flat Rectangle Connector Graphic Skins
(4) Square Shelves
(3) 50 Watt Halogen Lights
Graphic Template Download
Setup Instruction Download
Graphic Template Upload
Graphic Guidelines
Please visit our Artwork Guidelines page for important graphic requirements to aid in preparing files.
Graphic Proof Options
E-Proofs (emailed PDFs) are provided at no charge for reviewing layout and content.
Only Printed Graphic Proofs provide accurate color matching.
Printed Proofs are available for an additional cost.
Please refer to our Graphic Proof Approval page for details.
Lead Time
Items with custom printed graphics ship in 7-10 business days from Graphic Proof Approval.
Production lead times are based on business days (excluding weekends and holidays) and DO NOT include shipping transit time.
Please visit our Lead Time page for additional details.
Shipment Location
Ships from contiguous U.S.
Order Processing
Orders placed before 2:00 pm EST are processed same business day.
Orders placed after 2:00 pm EST are processed next business day.
We do not process orders on U.S. holidays or weekends.
Standard Shipping
In-stock items (items that do not require custom printed graphics) ship within 3-5 business days of order confirmation.
Items with custom printed graphics ship in 7-10 business days from Graphic Proof Approval.
Please visit our Shipping page for additional details.
Expedited Shipping
Rush shipping is available for most items.
Please call us to request a quote: +1 (843) 813-4742