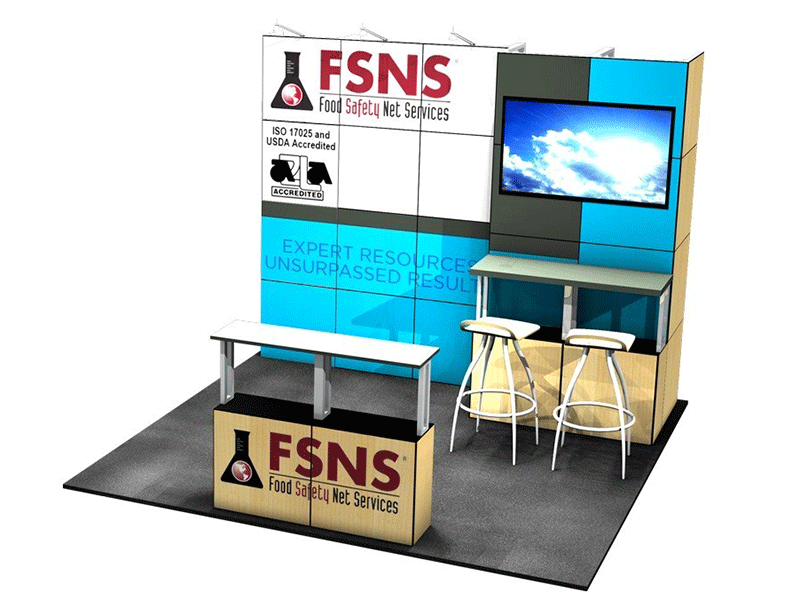 MultiQuad Modular 10' Exhibit MQ-10M
ED-MQ-10M-B

---
,
MultiQuad Modular 10' Exhibit MQ-10M
Reconfigurable Quads (graphic squares) for creating a unique backwall display
Endless choices!

Each Quad can display a graphic, wood grain finish, monitor mount, shelving, or backlit panel.

Quick and simple assembly (no tools required)
Quads adjust to fit your display monitors
Easy to ship via FedEx or UPS
Easily adjust your exhibit to display double-sided by joining additional quad panels
Each quad offers tons of internal hidden storage space
Lockable storage quad options available (lock and key collapsible box for storing valuables)
Other add-on options include portable podiums, display shelves, seating, iPad mounts, back-lighting, canopy light systems, bridges, towers, and more!
Sustainable: Lifetime warranty on aluminum framework and Green Return Buy-Back program (earn up to 20% of the MSRP)
MultiQuad Modular interchangeable quads, allow you to easily change your exhibit's size or look. This system is innovative in its ability to attach Quads to a modular aluminum frame using magnetic panels. Change your configuration without the use of tools!
MultiQuad Exhibits offers the capability to size your display to fit any and all tradeshow standards, from 10x10 inline to 20x20 island or larger. MultiQuad can be finished on all sides, easily converting a backdrop to an island display setup. A large variety of panel options, along with magnetic graphic attachments, afford you the ease of creating a unique design. Make your display memorable with high-resolution, vibrant graphics. We offer PMS matched colors, wood grains, brick patterns, backlit graphics and more!
Save big with shipping your MultiQuad display; the ultra-lightweight quads easily break down into individual components. Weight-based shipping is tremendously cost-effective with these portable systems!
MultiQuad Modular 10' Inline Exhibit MQ-10M Key Features
Podium Frames with Shelving
Custom Graphics
Accent Lighting (spotlight with clamp)
Internal Frame Monitor Mount (for monitors up to 42")
Setup Time:
Assembly Type: Aluminum Quad Framework (tool-free)
Graphic Type: Graphic Panel + Tension Fabric Graphic Option
Assembled Dimensions:
Shipping Dimensions:
Shipping Weight:
Product Warranty: Please refer to Limited Lifetime Warranty for details
This MultiQuad Modular Exhibit image is intended as design inspiration. The price range is a point of reference and fluctuates depending on your unique design creation, built to meet your exhibition, conference and event marketing needs. The options are limitless! Contact Us for additional details and to review all accessory and display customization options.
Graphic Template Download
Setup Instruction Download
Graphic Template Upload
Graphic Guidelines
Please visit our Artwork Guidelines page for important graphic requirements to aid in preparing files.
Graphic Proof Options
E-Proofs (emailed PDFs) are provided at no charge for reviewing layout and content.
Only Printed Graphic Proofs provide accurate color matching.
Printed Proofs are available for an additional cost.
Please refer to our Graphic Proof Approval page for details.
Lead Time
Items with custom printed graphics ship in 7-10 business days from Graphic Proof Approval.
Production lead times are based on business days (excluding weekends and holidays) and DO NOT include shipping transit time.
Please visit our Lead Time page for additional details.
Shipment Location
Ships from contiguous U.S.
Order Processing
Orders placed before 2:00 pm EST are processed same business day.
Orders placed after 2:00 pm EST are processed next business day.
We do not process orders on U.S. holidays or weekends.
Standard Shipping
In-stock items (items that do not require custom printed graphics) ship within 3-5 business days of order confirmation.
Items with custom printed graphics ship in 7-10 business days from Graphic Proof Approval.
Please visit our Shipping page for additional details.
Expedited Shipping
Rush shipping is available for most items.
Please call us to request a quote: +1 (843) 813-4742