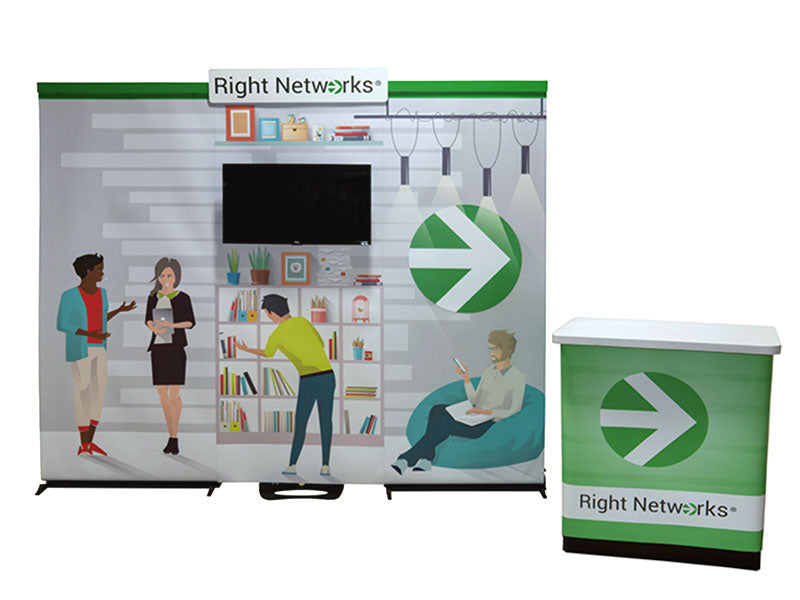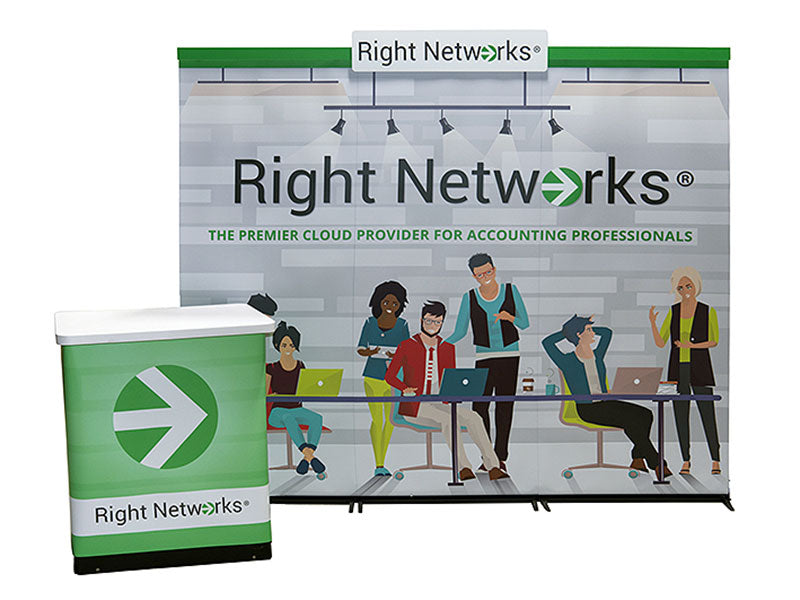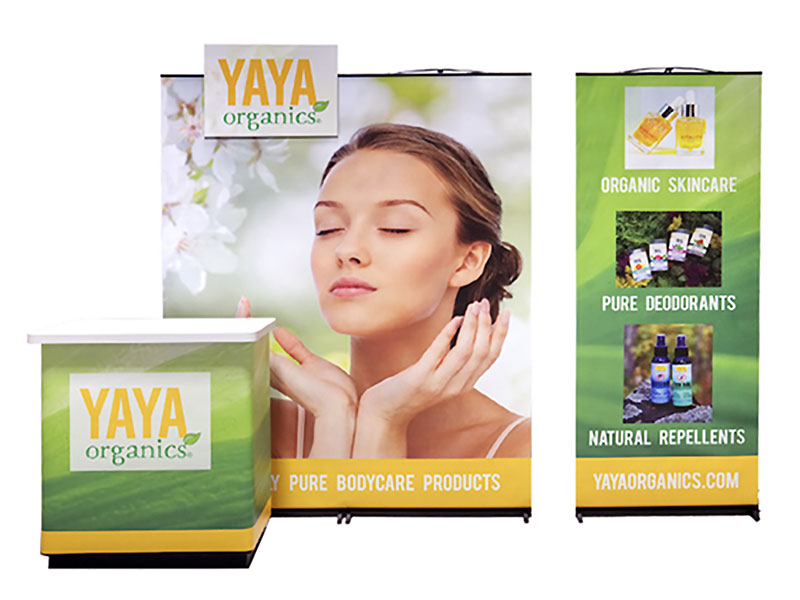 Link 10' Banner Backwall Kit 3K
TP-LB-10K3K

Link 10' Banner Backwall Kit 3K connects three banners to provide a 101" wide retractable banner backwall featuring vibrant full-color graphics. These displays set up in seconds without the use of tools. To assemble, simply pull the banner from its case and attach the included stabilizer feet to the base for additional support. Connect the graphic banner to the aluminum telescopic pole and you are ready for your trade show, conference, or event!
Link Displays are available as single, double, and triple units. Combine as many units as desired to create a wide seamless graphic backwall! Connecting the banner stands is easier than ever; quickly slide the units together and connect using a unique tongue and groove design with attachable magnets.
Change your graphics on the fly with interchangeable banners. This system is user-friendly, sleek, and versatile. Additional accessories are available including hard shipping cases, case-to-counter conversion kits, lighting and more!
Setup Time:
Assembly Type: Retractable Banner with Segmented Pole (tool-free)
Graphic Type: Direct Print - Vinyl Graphic
Assembled Dimensions: Backwall - 101" W x 89" H» Banner Live Area - 100.3" W x 85.6" H)
Shipping Dimensions:
Shipping Weight: 146 LBS (estimated)
Product Warranty: Please refer to Limited Lifetime Warranty for details
(2) 33.5" Link Retractable Banner Stands
(2) Direct Print - Vinyl Graphics
(1) Floating Direct Print - Vinyl Graphic
(2) Sets of 3 Aluminum Segmented Poles
(2) Sets of 3 Magnetic Strips
(3) Hard Tube Travel Cases
(3) Top Finishing Caps
(1) Floating Rectangle with Graphic
(1) Mini Case (37" W x 21" D x 42" H)
(1) Mini Case Molded Top (Black or White) and Vinyl Graphic Wrap
(1) Monitor Stand
(3) Monitor Stand Shelves (24" W x 12" D)
Graphic Template Download
Setup Instruction Download
Graphic Template Upload
Graphic Guidelines
Please visit our Artwork Guidelines page for important graphic requirements to aid in preparing files.
Graphic Proof Options
E-Proofs (emailed PDFs) are provided at no charge for reviewing layout and content.
Only Printed Graphic Proofs provide accurate color matching.
Printed Proofs are available for an additional cost.
Please refer to our Graphic Proof Approval page for details.
Lead Time
Items with custom printed graphics ship in 7-10 business days from Graphic Proof Approval.
Production lead times are based on business days (excluding weekends and holidays) and DO NOT include shipping transit time.
Please visit our Lead Time page for additional details.
Shipment Location
Ships from contiguous U.S.
Order Processing
Orders placed before 2:00 pm EST are processed same business day.
Orders placed after 2:00 pm EST are processed next business day.
We do not process orders on U.S. holidays or weekends.
Standard Shipping
In-stock items (items that do not require custom printed graphics) ship within 3-5 business days of order confirmation.
Items with custom printed graphics ship in 7-10 business days from Graphic Proof Approval.
Please visit our Shipping page for additional details.
Expedited Shipping
Rush shipping is available for most items.
Please call us to request a quote: +1 (843) 813-4742