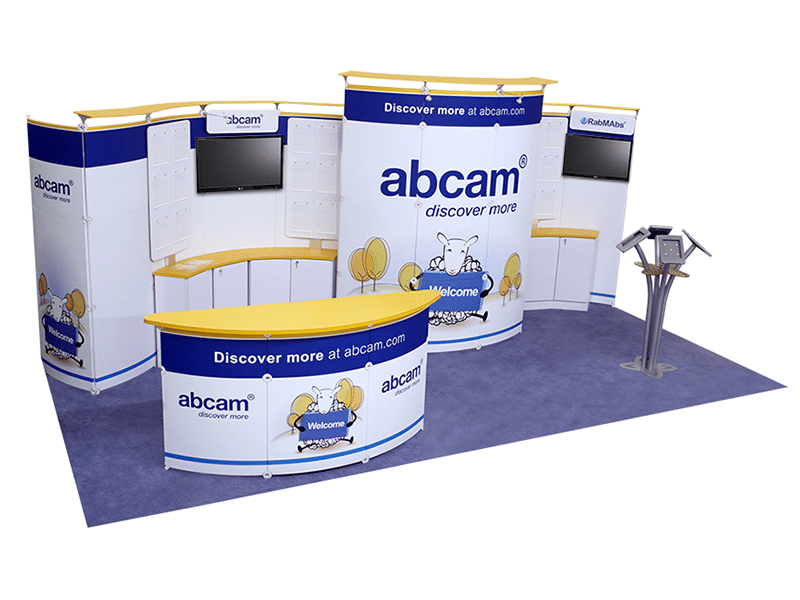 Lite Modular 20' Inline Exhibit LM-20K
TP-LM-20K

---
,
Lite Modular 20' Inline Exhibit LM-20K allows you to easily change the look and size of your booth. Your exhibit options are endless with this modular, scalable design. This display system features the ability to easily change out graphics, allowing you to quickly alter your branded message.
Lite Modular Display Highlights
Simple, tool-free panel and node connector design
Straight and curved panel options
Interchangeable graphics
Scalable design lets you reconfigure these systems from tabletops to inlines to islands
Case-to-counter capability (case converts to a branded podium with lockable storage)
Additional accessories include backwall counters, adjustable monitor stands, lighting, podiums, shelving, canopies and more!
Lightweight frame saves you money on shipping!
Create unlimited exhibits, displays, towers and walls with just one investment! With the fast, simple, tool-free panel and connector assembly, you can easily build and reconfigure the curved or straight panels into a display that will meet any exhibit size.
Lite Modular 20 Foot Inline LM-20K display is very lightweight to reduce your transportation costs and carbon footprint. This durable system can be reused many times, making it a truly sustainable option. The portable case converts to a podium for extra functionality. Customize your design with interchangeable graphics and a large variety of accessories.
Lite Modular Featured Options Include
Lightbox with Tension Fabric Graphics
Adjustable Backwall Counters
Case-to-Counter Conversion Kits
Canopies
Floating Headers
Locking Storage
Monitor Mounts (including large monitor hanging system)
Nodes with Graphic Caps
Slatwall Shelving
Towers
Setup Time:
Assembly Type: Panels with Node Connectors (tool-free)
Graphic Type: Graphic Panel + Tension Fabric Graphic Option
Assembled Dimensions:
Shipping Dimensions:
Shipping Weight:
Product Warranty: Please refer to Limited Lifetime Warranty for details
This Lite Modular Exhibit image is intended as design inspiration. The price range is a point of reference and fluctuates depending on your unique design creation, built to meet your exhibition, conference and event marketing needs. The options are limitless!Contact Us for additional details and to review all accessory and display customization options. <a href=""tel:+1-843-813-4742"">+1 (843) 813-4742</a></p> <h5>GRAPHIC TEMPLATES + SETUP INSTRUCTIONS</h5> <b>Graphic Template Download</b><br> <ul> <li><a href=""/pages/contact-us"" data-rt-link-type=""external"" target=""_blank"" title=""Contact Us"" rel=""noopener noreferrer"">Request Graphic Templates
Graphic Template Download
Setup Instruction Download
Graphic Template Upload
Graphic Guidelines
Please visit our Artwork Guidelines page for important graphic requirements to aid in preparing files.
Graphic Proof Options
E-Proofs (emailed PDFs) are provided at no charge for reviewing layout and content.
Only Printed Graphic Proofs provide accurate color matching.
Printed Proofs are available for an additional cost.
Please refer to our Graphic Proof Approval page for details.
Lead Time
Items with custom printed graphics ship in 7-10 business days from Graphic Proof Approval.
Production lead times are based on business days (excluding weekends and holidays) and DO NOT include shipping transit time.
Please visit our Lead Time page for additional details.
Shipment Location
Ships from contiguous U.S.
Order Processing
Orders placed before 2:00 pm EST are processed same business day.
Orders placed after 2:00 pm EST are processed next business day.
We do not process orders on U.S. holidays or weekends.
Standard Shipping
In-stock items (items that do not require custom printed graphics) ship within 3-5 business days of order confirmation.
Items with custom printed graphics ship in 7-10 business days from Graphic Proof Approval.
Please visit our Shipping page for additional details.
Expedited Shipping
Rush shipping is available for most items.
Please call us to request a quote: +1 (843) 813-4742